Welcome
Release of Savanna Bear! 
I'm so pleased to share with you the next and last book in the Hotel Safari series, Savanna Bear, which is available to buy as of today.
This book was so much fun to write because Megan was so much fun. When I first created her for Book 4, Broken Lynx, I loved her so much I knew I had to give her her own story. She just loves life and love and sex soooo much and is able to express and enjoy those parts of herself, which isn't easy for all women.
Here's the official blurb:
A grizzly doesn't belong on the African savanna but can he find a place in a human's heart?

As the Head of Marketing for a multinational hotel corporation based in London, free-spirited Megan Larch has seen her share of hotel rooms. She's also seen—and loved—her share of men. Megan has a type, and the extremely large, extremely buff American at Hotel Safari isn't it. While she'll never turn up her nose at a good shag, she came to the lodge to visit old friends, not make new ones.

Xander Simpson is a bear shifter on the prowl for a new adventure. He quit his job in Minneapolis to try his hand at wildlife photography on the Kenyan savanna. The sexy British redhead doesn't fit into his plans, but she stirs emotions in him he never expected from a human woman.

When Megan learns her friends have been hiding an age-old secret, can she overcome her feelings of betrayal and forgive them? Or will her guarded nature keep her from the one man who could finally convince her to settle down?
Thank you to everyone who has supported me throughout this journey. So many of you responded positively to the launch of Book 5, Thai Rebound, that I hope you'll give Megan and Xander a chance, too.
No worries, I'll be back soon with a new book, the first in a new trilogy, Falling for Kigali. No release date yet, but I'm hard at work and hope to reveal the cover soon.
Free Books!
Pride of Africa is free everywhere, including now on instaFreebie, and the rest of the Hotel Safari series is available on Kindle Unlimited, and therefore free to Kindle Unlimited subscribers! Or buy each for only 99 cents – what a steal!
Do you prefer a paperback to ebooks?
Hotel Safari Books 1-3 by Tori Knightwood
Paperback Now Available
The print book version of the first three novellas is now available on Amazon and elsewhere (in fact, it's coming soon to the Northshire Bookstore Saratoga in Saratoga Springs, NY!).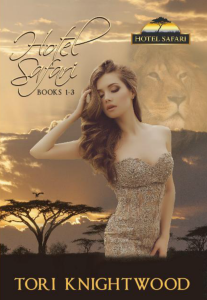 Thanks so much for your support. Hope you love Hotel Safari!
Bisous,
Tori