Welcome

News
Many thanks to the Northshire Bookstore Saratoga for hosting me and four other romance authors for a Romance Author Night! To see the books from my co-presenters, check out my Reading Recs!
New series
Kenya Calling, Book 1 of the new series, Shifter Hunters Ltd. is coming soon! You can get a taste of the new series by claiming the prequel short story, Vegas Rogues, now from instaFreebie. Check out this page for more information on the new series.
Get the Hotel Safari Books 1-3 Paperback by Tori Knightwood
The print book version of the first three novellas is now available on Amazon and elsewhere, and is being sold at the Northshire Bookstore in Saratoga Springs, NY! And, thanks to my recent event at Northshire, they are now selling signed copies of the book. Limited supply, so buy yours today!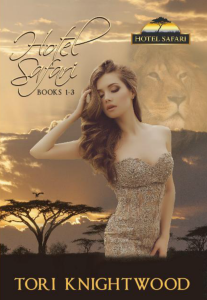 Thanks so much for your support. Hope you love Hotel Safari!
Bisous,
Tori