Tori's Books
Series Books by Tori Knightwood

Hotel Safari is a series of interconnected, stand-alone shifter romance novellas, mostly set in southern Kenya at the Hotel Safari Lodge, owned and operated by the Kemboi family. Visitors and volunteers come for the wildlife and get much more in the bargain. Each novella ends with a "happily ever after" and is a little sweet, a little spicy, and recommended for ages 18 and up.
Pride of Africa (Hotel Safari Book 1) – Now free at all retailers!
Serena planned on studying lions…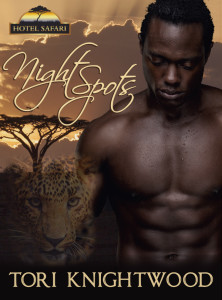 Night Spots (Hotel Safari Book 2)

Tara knew she'd fall in love with Nairobi, but didn't plan on falling in love in Nairobi
Savanna Dance (Hotel Safari Book 3)
Follow her family's path or give in to sizzling chemistry with a stranger under the moonlight?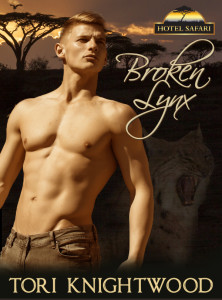 Broken Lynx (Hotel Safari Book 4)
Broken heart need mending? Check into Hotel Safari.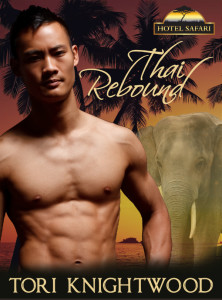 Thai Rebound (Hotel Safari Book 5)
Can an ice queen's heart melt in the sultry heat of a Thai rebound?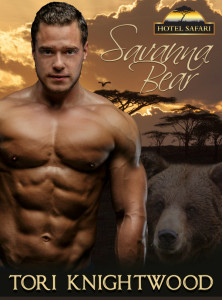 Savanna Bear (Hotel Safari Book 6)
A grizzly doesn't belong on the African savanna but can he find a place in a human's heart?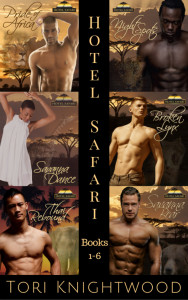 The Hotel Safari Complete Collection
iBooks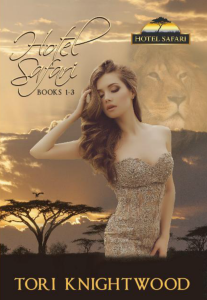 Hotel Safari Books 1-3 (paperback)
Praise for Pride of Africa
This was a quick and entertaining read. I literally could not put this book down and read it in one sitting. It kept me interested from beginning to end and I was really sorry to see it end. I am looking forward to reading other titles from this author.  – Christine
The author did a brilliant job of reeling me in with the story's vivid imagery and riveting plot. This is a genre I tend to avoid because I usually find the writing to be vapid and/or tawdry. Ms. Knightwood skillfully navigates a genre that is difficult to broach; this is a beautifully written story. – Kimberly
I so enjoyed reading this novella. I have read many romance novels and found Pride of Africa to be on par with the better ones in this genre. The setting is unusual and described beautifully. The characters are well developed for a short format story. The romantic elements of the story are done with class as well as heat. It is an absorbing read that leaves you looking forward to the next one. Can't wait for Knightwood's next one! – Amazon Customer
Non-Series Books by Tori Knightwood
Zanzibar Dream
a steamy short story told in poetry and prose
Praise for Zanzibar Dream
This was a beautiful, melancholy story full of mood. The ending surprised me, but it felt fitting and right for the story. I knew I'd love the setting and romance, and I totally did–the atmosphere was lush and dreamy. Before I started reading, I wasn't sure I'd like the poetry interspersed with story, but I ended up loving it. It added so much emotional punch. Very satisfying.  – TH
The writing kept me gripped in the moment of each scene, and the beautiful poetry added an emotional hit.  – TeacherWriter
If you like books by Tori Knightwood, get notifications about my books direct to your inbox. Sign up for my mailing list and get free stories and extra content!