Upcoming Release
My next book, Kenya Calling, will release on January 16th, 2018. If you're on my mailing list, please watch out for an email announcing the new release or follow me on Facebook for the latest exciting news.
In the Shifter Hunters Ltd. trilogy, Ryenne Cavanagh faces off against rogue shifters with her business partner and best friend while trying to prove herself in a male-dominated field. As it becomes clear her recent cases are connected to a mysterious figure, she must fight her attraction to a competitor with a secret. In the end, she'll only win love if she can overcome her inner demons.
Kenya Calling
Tragedy made her a shifter hunter. He would die to protect his family's secrets. When business brings them together in Africa, sparks and claws will fly.
Ryenne Cavanagh is a kick-ass shifter hunter in a world where most shifters are law-abiding, but rogues like to make trouble. Successful in a male-dominated field, Ryenne doesn't take shit from anyone. Especially not from shifters.
When a rich Kenyan businessman hires Ryenne to protect him and his entire village from a rogue leopard shifter, she soon finds herself the target of the most cunning rogue she's ever faced. Worse still, her new client forces her into competition against a sexy French shifter hunter with a dangerous secret. She needs to solve the case first or lose her fee. Despite their rivalry, the French hottie is breaking down the protective walls built around her heart since she lost her brother and father.
Will she uncover the identity of the rogue first or lose her heart along with her fee? More importantly, will she bring the rogue to justice before she becomes his next victim?
Click here to read an excerpt.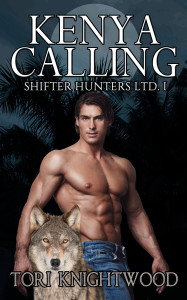 Wolves of Paris
Ryenne's vacation in Paris turns into a nightmare when rogue shifters target Lucien's family business.
Lord of New York
Ryenne decides that Mr. Lord has pulled the strings long enough and she must find him and neutralize him before she loses everything she cares about.