Hotel Safari

Hotel Safari is a series of interconnected, stand-alone shifter romance novellas, mostly set in southern Kenya at the Hotel Safari Lodge, owned and operated by the Kemboi family. Visitors and volunteers come for the wildlife and get much more in the bargain. Each novella ends with a "happily ever after" and is a little sweet, a little spicy, and recommended for ages 18 and up.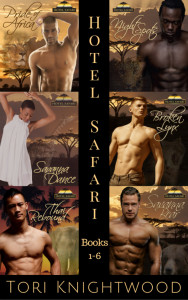 The Hotel Safari Complete Collection
Amazon
iBooks
Kobo
Nook
Pride of Africa (Hotel Safari Book 1) – Now free at all retailers!
A grad student. A rich lion shifter. His secrets could destroy their chance at love.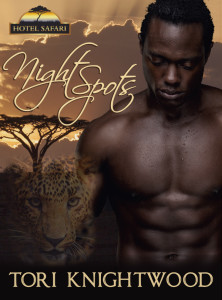 Night Spots (Hotel Safari Book 2)

Two temporary hotel employees. One big secret. Suspense and romance clash on the streets of Nairobi.
Savanna Dance (Hotel Safari Book 3)
A hunky veterinary student. A wayward giraffe shifter. The savanna is about to get hotter than ever.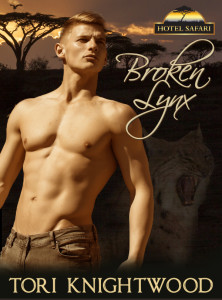 Broken Lynx (Hotel Safari Book 4)
A nurse in mourning. A broken-hearted lynx shifter. Love will either save them or bury them.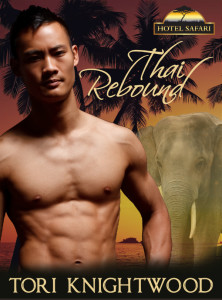 Thai Rebound (Hotel Safari Book 5)
A heart as cold as ice. The heat of Thai chilis. Anything can happen in the jungle.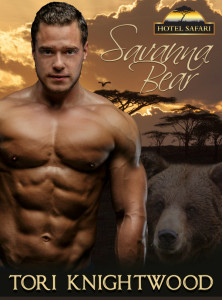 Savanna Bear (Hotel Safari Book 6)
A serial monogamist. A buff photographer. Her experience and his muscles might just make magic.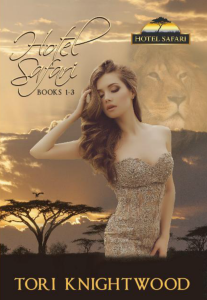 Hotel Safari Books 1-3 (paperback)
Praise for Pride of Africa
This was a quick and entertaining read. I literally could not put this book down and read it in one sitting. It kept me interested from beginning to end and I was really sorry to see it end. I am looking forward to reading other titles from this author.  – Christine
The author did a brilliant job of reeling me in with the story's vivid imagery and riveting plot. This is a genre I tend to avoid because I usually find the writing to be vapid and/or tawdry. Ms. Knightwood skillfully navigates a genre that is difficult to broach; this is a beautifully written story. – Kimberly
I so enjoyed reading this novella. I have read many romance novels and found Pride of Africa to be on par with the better ones in this genre. The setting is unusual and described beautifully. The characters are well developed for a short format story. The romantic elements of the story are done with class as well as heat. It is an absorbing read that leaves you looking forward to the next one. Can't wait for Knightwood's next one! – Amazon Customer